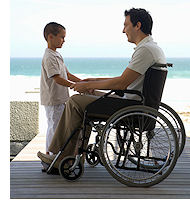 Disability insurance, often called disability income insurance, is a form of insurance that insures the beneficiary's earned income against the risk that disability will make working (and therefore earning) impossible.
Disability Insurance includes;
Paid Sick Leave
Short-Term Disability Benefits
Long-Term Disability Benefits
Individual Disability Insurance Policies
Those whose employers do not provide benefits, and self-employed individuals, who desire disability coverage, may purchase their own policies on the open market.
Premiums and available benefits for individual coverage vary considerably between different companies, for individuals in different occupations, and by State and Country.
In general, premiums are higher for policies that provided more monthly benefit, pay the benefit for a longer period of time, and start payments for benefits more quickly following a disability.
Premiums also tend to be higher for policies that define disability in broader terms, meaning the policy would pay benefits in a wider variety of circumstances.
Get a free Disability Insurance Quote
DFW Disability Insurance in Texas
Costlow Insurance serves Dallas, Ft. Worth, North Texas, and now all of  Texas. Remember our motto: Insurance Texans Trust. Since 1981, we've gained that reputation one customer at a time by providing you, our customer, with informed decisions about all your insurance needs.
 Providing Disability Insurance in Rowlett Texas
and the Dallas and Fort Worth Areas
Dallas • Plano • Richardson • Allen • Heath
Sachse • Wylie • Royse City • Garland • Fate
Mesquite • Forney • Rockwall • Rowlett • Texas
"Insurance Texans Trust"
Costlow Insurance Group, Inc.
3521 Main St., Suite 100,
Rowlett, TX 75088
(972) 463-8043